We are now delivering veg bags to several pick up points across the South Pennines.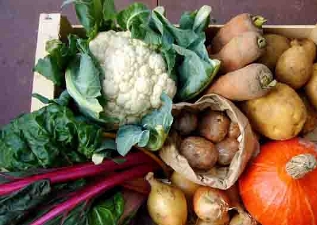 Would you like a delicious weekly selection of fresh, seasonal, local, sustainably grown vegetables? Cropshare is a veg box scheme with a difference....
We are committed to the sustainable, local production of good food. We want people to be able to get hold of this food easily and in the certain knowledge that they are buying into a scheme that is based on principles, not profit.
We are a social enterprise - all profits are re-invested to support the production of sustainable food locally.
We have strong links with all our growers, and we pay a fair price for their produce.
We are supporting Climate Friendly Food, and aim to make sustainably grown fruit and veg affordable for all.
The food in our bags (in fact they are bags, not boxes!) is either certified organic or accredited by the Climate Friendly Food scheme.
Bags are available in two sizes: 
Small bags contain 6-7 types of veg, and are £6 a week (see more here).

Standard bags contain 8-9 types of veg, and are £10 a week (see more here).
We accept Healthy Start vouchers. Please contact us for more details.